About Umechan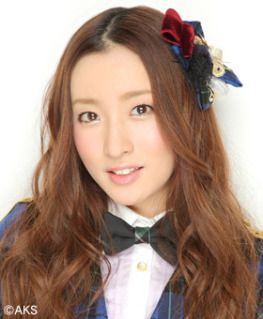 Basic Profile:
Name: Umeda Ayaka (梅田彩佳)
Team: K
Nickname: Ume-chan (うめちゃん)/ Kyura (キュラ)
Birthdate: January 3rd, 1989
Birthplace: Fukuoka, Japan
Height: 151.5cm
Blood Type: A
Unit: DiVA (official site)
Bust: 78cm
Waist: 59cm
Hips: 82cm
Agency: Office48
Blog: old: Gree Blog , Office48 Blog, new: ameblo
Twitter: @AyakaUmeda
Catchphrase: Refreshing like soda, sweet like ice cream, who loves dancing, Umeda Ayaka. (炭酸飲料のようにすかっと、アイスのようにあまーい、ダンスが大好きな梅田彩佳です。\ Tansaninryou no you ni sukatto, aisu no you ni amaai, dansu ga daisuki na Umeda Ayaka desu.)
Fukuoka Prefecture's U~me! Umechan, Umeda Ayaka (福岡県出身のう~めっ!梅ちゃんこと梅田彩佳です。\Fukuokaken shusshin no U~me! Umechan koto Umeda Ayaka desu.)
Singles:
Senbatsu
Aitakatta (会いたかった)
Baby! Baby! Baby!
Ue kara Mariko (上からマリコ)
Under Girls 
Heavy Rotation: Namida no SeeSaw Game (涙のシーソーゲーム)
Flying Get: Dakishimecha ikenai (抱きしめちゃいけない) (center)
Everyday, Kachuusha: Hito no chikara (人の力)

Theater Girls
River: Hikoukigumo (Theatre Girls ver.) (ひこうき雲 (シアターガールズ ver.))
Ponytail to Shushu: Boku no YELL (僕のYELL)
Undergirls Yuri-gumi
Kaze wa fuiteru: Gondola Lift (ゴンドラリフト)
Special Girls B
GIVE ME FIVE: Hitsujikai no Tabi (羊飼いの旅)
Special Girls 
Manatsu no Sounds Good!: Mitsu no Namida (3つの涙)
Team K
Chance no Juban: ALIVE
Ue kara Mariko: Zero Sum Taiyou (ゼロサム太陽)
Diva
Beginner: Nakero Basho (泣ける場所)
Sakura no ki ni narou: AREA K (エリアK)
Stage Units:
K1: PARTY ga Hajimaru yo (「PARTYが始まるよ」): Skirt, Hirari
K2: Seishun Girls (「青春ガールズ」): Ame no Doubutsuen, Fushidara na Natsu
K3: Nounai Paradise (「脳内パラダイス」): MARIA
K4: Saishuu Bell ga Naru (「最終ベルが鳴る」): Return Match
K5: Saka Agari (「逆上がり」): End Roll
K6: RESET: Kokoro no Hashi no Sofa
H2: Yume wo Shinaseru Wake ni Ikanai (「夢を死なせるわけにいかない」) ): Bye Bye Bye  (Revival)

Trivia:
She is close with Nonaka Misato and Nakatsuka Tomomi.
Her Oshimen is Kasai Tomomi ("becaue she's cute")
Umechan participated and passed the first round of the Morning Musume audition Morning Musume Lucky 7 Audition. 
Her favorite color is/was pink, now it's blue
She was the Tokyo Tower image girl.
Umechan hosted a radio show called "Tokyo Tower Club333 Night View", when she was the TT image girl.
On the 2nd Senbatsu election, she was 32th with 2499 votes & 3rd Senbatsu election she was 22th with 11860 votes, that means she was the  UG center in 22th single.